Unscrewed Theater (UT), a 501(c)(3) nonprofit corporation, operates Unscrewed Theater at 4500 E. Speedway Blvd #39. Tucson, AZ 85712. Scholarships are provided at the sole discretion of the Unscrewed Theater Governing Board, and are subject to periodic review and update as required.
Unscrewed Theater Mission Statement
Unscrewed Theater is dedicated to teaching and showcasing the art of improvisational theater as well as other unique forms of live entertainment. We foster a safe and supportive atmosphere in which artists can grow and explore their talent. We provide a venue to showcase these talents as to enrich our community through the art
Scholarship Description
The Unscrewed Theater Scholarship is to award improvisers the opportunity to study improvisational theater. Scholarships are awarded to students who exhibit financial need along with a desire to learn an art form that prides itself on taking care of others, making your scene partner look good, being supportive on and off stage, and thinking fast on your feet.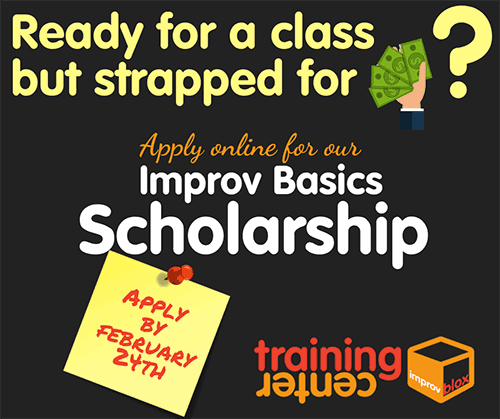 Class Schedules and Scholarship Deadlines
Application deadline: March 13, 2021
Eligibility Requirements
NO previous Improv experience is necessary! You must be at least 18 years of age. No member of the public shall be denied enrollment based on gender, race, sexual orientation, religion or other personal information.
Application Process
Applicants must submit all of the required materials to be considered, and incomplete applications will not be accepted. Selected finalists will be invited for an audition or an in person interview screening. Only online submissions will be accepted and considered at this time. All students are required to signed a completed enrollment agreement before the first class session.
Applicants are highly encouraged to apply as early as possible. Unscrewed Theater reserves the right to close the application window at any time.
Scholarship Terms
Beneficiary of scholarship will have Three (3) months to begin classes.
Classes must be taken in succession (exception to be made for illness and family emergency. In cases like these the benefactor is allowed to miss a complete eight (8) week session and return to complete their education.)
If expelled from class (ie missing more than two (2) classes in one term), the benefactor will be stripped of the scholarship.
Tuition for the scholarship will go directly to Unscrewed Theater. Beneficiary will simply sign up for class times/days they prefer.