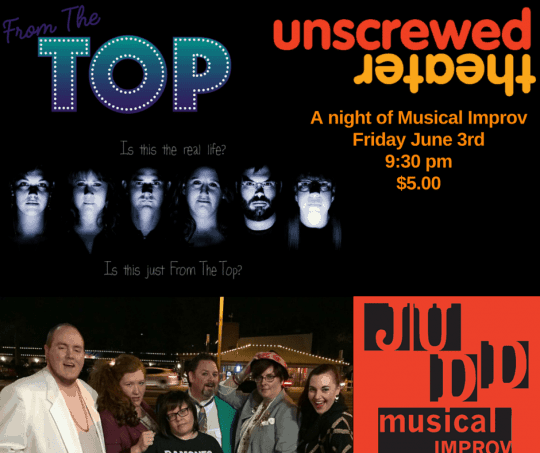 UNSCREWED THEATER'S NEWEST HOUSE TEAM!
From The Top mixes musical theater and improvisation into an amazingly addictive combination that will keep you coming back for more!
First Fridays are now From The Top Fridays at Unscrewed Theater! Join Anna, Casey, Carolyn, Cy, Ryan, and Scott as they create Musical Theater from ONE audience suggestion! Right before your eyes.
Joining From The Top for their debut performance is Judd, a musical improv troupe representing Phoenix's Torch Theatre. In their own words…
"Judd takes improvised scenes and forms them into improvised songs. The result is an unscripted musical-theatre performance. The group's improvisers are all avid singers and/or musicians, while the accompanist is also a skilled improviser himself. This versatility allows the group to create songs that are not only fun to hear, but also make sense within the scene and the show."
It's going to be a Magical, Mythical, Musical evening at Unscrewed Theater! DON'T MISS IT!
Unscrewed Theater is located at 3244 E. Speedway Blvd. Tucson, AZ 85716 (across from The Loft Cinema, next to Fronimo's). Parking and entrance are located in the rear of the building. Turn in to the Walgreen's parking lot and go to the left around the building.
Online ticket sales end at 5:45pm on the day of the show.
Unscrewed Theater is a 501(c)(3) nonprofit organization dedicated to teaching, performing, and producing all forms of live improvisational theater in Tucson, AZ.
Box Office Policies
All online Pre-Sale/Will Call tickets will be available for pickup at the door with photo ID .
Pre-sale tickets must be picked up before the show begins.
All sales are final. Refunds will only be given if we are unable to perform a show as scheduled.
Seating is first come, first served. Doors open 30 minutes before curtain time, so arriving early is recommended for large groups that wish to sit together.