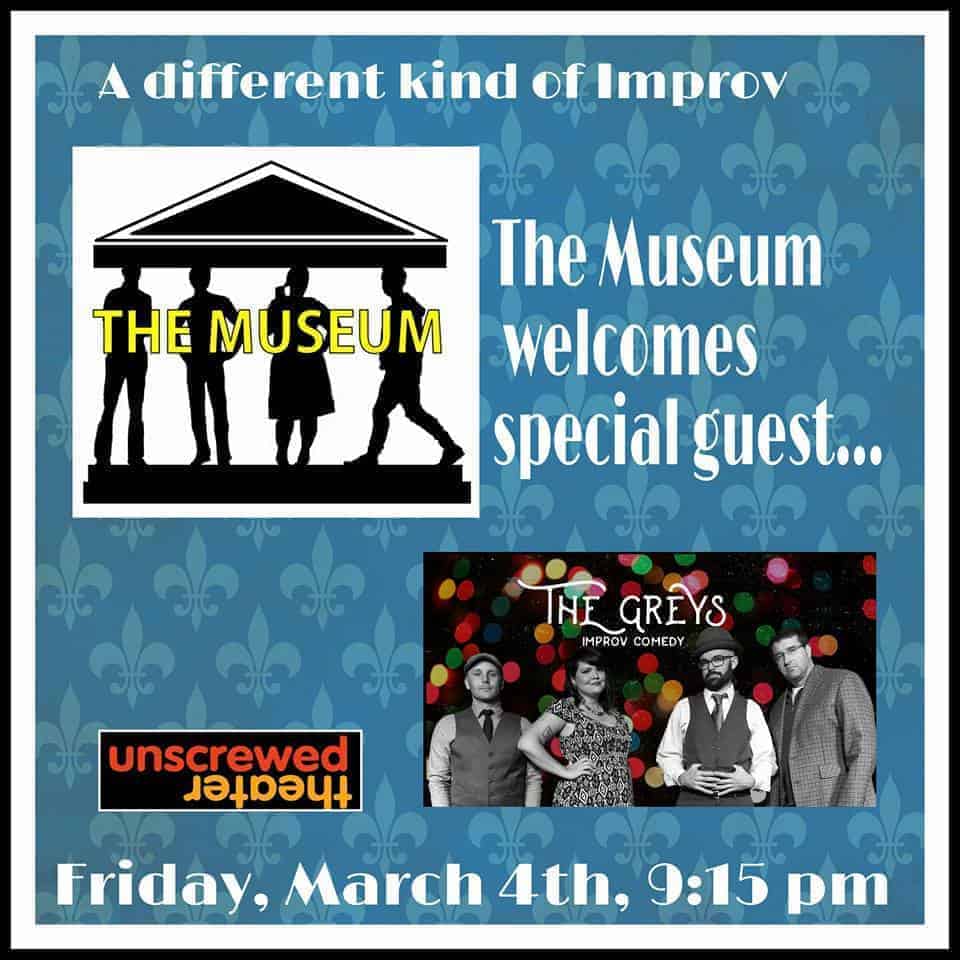 Long-Form Improv – $5 admission
Not Burnt Out Just Unscrewed is Unscrewed Theater's original/founding "house team". Our vision has always been to add more teams and give more opportunity and variety of improv to the Tucson community.
Well, we're excited to announce that we've added another team to our ranks! The Museum!
THE MUSEUM is a foursome made up of Cris Candelario, Gretchen Wirges, Adam Lester, and Walter Temple. They play a fast paced, hilarious format that you're going to love.
Check out their Facebook Page:
https://www.facebook.com/pages/The-Museum/812155295489412?fref=ts
SPECIAL GUEST! On Friday, March 4 The Museum is very proud to have a special guest, The Greys, another Tucson troupe with a fun and interesting style. In their own words…
"Picture this: A description of a beloved family heirloom sets the stage for a richly imagined one-room set, breathed into being by four noir-inspired improvisers. Comedy and capers unfold in one ongoing scene, inspired by motion pictures and television in an age before Technicolor."
Members: Zack Armstrong, Abbigail McCracken, Jeremy Shockley, and Matt Tropman
Come join us in a night of inspired improv and as always, admission is $5 for two great troupes. BRING A FRIEND!
Online ticket sales end at 5:30pm on the day of the show.
Unscrewed Theater is located at 3244 E. Speedway Blvd. Tucson, AZ 85716 (across from The Loft Cinema, next to Fronimo's). Parking and entrance are located in the rear of the building. Turn in to the Walgreen's parking lot and go to the left around the building.
Unscrewed Theater is a 501(c)(3) nonprofit organization dedicated to teaching, performing, and producing all forms of live improvisational theater in Tucson, AZ.
Box Office Policies
All online Pre-Sale/Will Call tickets will be available for pickup at the door with photo ID .
Pre-sale tickets must be picked up before the show begins.
All sales are final. Refunds will only be given if we are unable to perform a show as scheduled
Seating is first come, first served. Doors open 30 minutes before curtain time, so arriving early is recommended for large groups that wish to sit together.