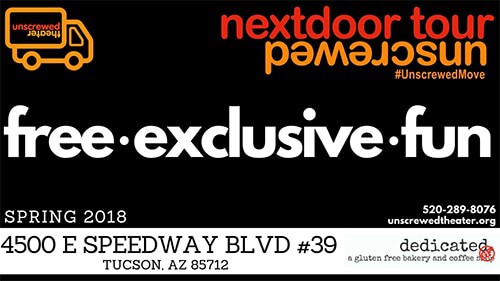 We're building a new Unscrewed Theater! While we do that, bring on the Unscrewed NextDoor Tour!
Every Friday night in April and May, enjoy a FREE show, hosted by our new neighbors: dedicated. a gluten free bakery and coffee shop.
Join us for Friday night funnies with Unscrewed Theater's house teams: Not Burnt Out Just Unscrewed, From The Top, Comic Chaos, and Leaky Faucets! Plus, you can purchase delicious dedicated treats while you laugh!
Tickets are free, but seating is limited, so claim yours now!
Stop by a little early and peek in the windows of our new space while we build, and if you're feeling generous, toss a little at our Building And Relocation Fund (the BARF!).
Dedicated is located at 4500 E. Speedway, Suite 41: on the south side of Speedway, just west of Swan, in Midway Business Park.
Please note: Dedicated strives to maintain an allergen-free environment, so please do not bring any outside food or drink.