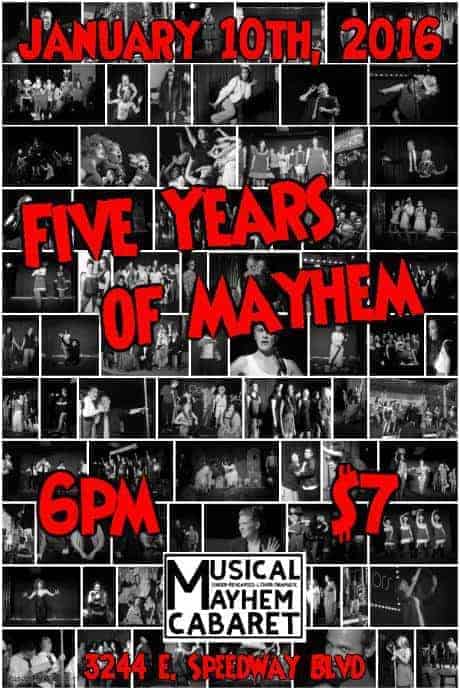 FIVE YEARS OF MAYHEM!
What do The Herberger Theater, Colors, New Moon, Fluxx, Unscrewed Theater, and The BlackBox Theater have in common? In the past five years they have all played home or host to MUSICAL MAYHEM CABARET! MMC has been making Mayhem in Phoenix, Tucson, Flagstaff and Casa Grande for FIVE YEARS and we're celebrating with an epic night of our one of a kind Under-Rehearsed and Over-Dramatic entertainment!!
– FIVE YEARS OF MAYHEM – starring the cast members of MMC you've come to know and love: Susie Carey, Donnie Cianciotto, Kirsten Cummins, Alyson McHugh, Dawn McMillan, Katie Popiel, Jessica Pryde, Elliot Scott, Nicolette Shaffer, Ina Shivack, Claire Showerman, Rebecca Sweet, Michael Woodward & Marlies Zandbergen!
– FIVE YEARS OF MAYHEM – introducing new cast members Tristan Kluge & Usame Gunes!
– FIVE YEARS OF MAYHEM – special performances by original cast members Gabi Urias & more TBA!
– FIVE YEARS OF MAYHEM – amazing video performances by the cast of the upcoming MUSICAL MAYHEM COLORADO starring our very own Clarissa DuBose, Jillian Mitchell, China Young, Caleb Reed & Jessica Leonard!
– FIVE YEARS OF MAYHEM – a special PSA from our very own Kia Crottinger as Paula Deen!
– FIVE YEARS OF MAYHEM – performances by pianist Stacey Seaman of Casa Grande's BlackBox Foundation!
– FIVE YEARS OF MAYHEM – the final performances of cast members Michael Woodward as he relocates to Colorado, Rebecca Sweet as she relocates to NY, and the final performance of Artistic Director and Mayhem Creator Donnie Cianciotto as he moves to NYC to work at The Public Theater!
– FIVE YEARS OF MAYHEM – video clips, montages, awards, announcements, special guests & surprises filling this THREE HOUR EVENT with more Mayhem than ever before!
Tickets for this enormous event are just $7 and we do anticipate selling out! We suggest making reservations NOW by emailing [email protected] or contacting us via Facebook!
We look forward to celebrating this milestone with you! Thank you, Arizona, for all of the amazing memories and here's to many, many more!
http://musicalmayhemcabaret.weebly.com/
Unscrewed Theater is located at 3244 E. Speedway Blvd. Tucson, AZ 85716 (across from The Loft Cinema, next to Fronimo's). Parking and entrance are located in the rear of the building. Turn in to the Walgreen's parking lot and go to the left around the building.
Unscrewed Theater is a 501(c)(3) nonprofit organization dedicated to teaching, performing, and producing all forms of live improvisational theater in Tucson, AZ.