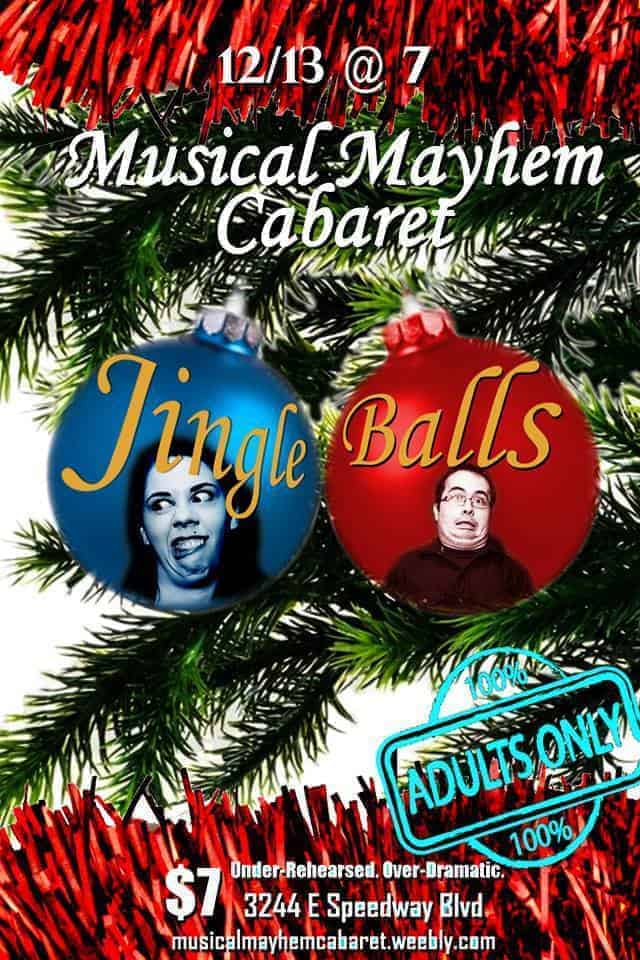 Why sit through yet another family friendly holiday show of children laughing at happy snowmen and dancing reindeer? Do something DIFFERENT!
Let out your naughty elvish side and celebrate the holidays with our special Adults Only cabaret show! Leave the kids at home for this one, folks, and enjoy our "under rehearsed and over dramatic" take on some of your favorite classic and contemporary holiday songs, along with a surprising handful of shockingly hilarious music guaranteed to get you in the mood.. 😉
With special guests and former cast members China Young and Kia Crottinger!
Doors open at 6:30pm – showtime is 7:00pm! Tickets are just $7!
Make reservations to guarantee your seats by emailing [email protected] – this show *will* sell out! Visit our website for more information!
http://musicalmayhemcabaret.weebly.com/
Unscrewed Theater is located at 3244 E. Speedway Blvd. Tucson, AZ 85716 (across from The Loft Cinema, next to Fronimo's). Parking and entrance are located in the rear of the building. Turn in to the Walgreen's parking lot and go to the left around the building.
Unscrewed Theater is a 501(c)(3) nonprofit organization dedicated to teaching, performing, and producing all forms of live improvisational theater in Tucson, AZ.