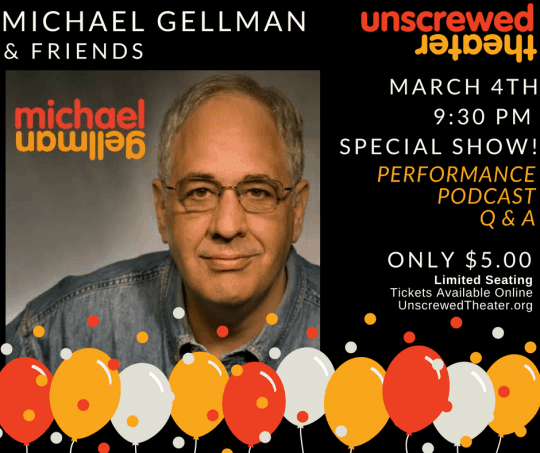 A UNIQUE COMBINATION OF PODCAST INTERVIEW, Q&A, AND PERFORMANCE!
Over the past 40 years Mr. Gellman has directed, taught, and/or acted with: Dan Aykroyd, John Candy, Bill Murray, Gilda Radner, Chris Farley, Steve Carell, Stephen Colbert, Tina Fey, George Wendt, Del Close, Betty Thomas, Dan Castellaneta, Charna Halpern, Mick Napier, Armando Diaz, Jimmy Carrane,  David Pasquesi, Keegan-Michael Key, Linda Cash, Pat McKenna, Joel Murray, David Razowsky, Susan Messing, Bruce Pirrie, Kathryn Greenwood, Ron James, Joe Bill and many others.
Michael will be taking questions from audience members, AND performing scenes with students of the intensive improv workshops he taught earlier that day. You will see scenes performed by current or former members of Unscrewed Theater, along with improvisers from Arizona and beyond!
Admission to the show is only $5! Suggested for audience members ages 17 and over.
Unscrewed Theater is located at 3244 E. Speedway Blvd. Tucson, AZ 85716 (across from The Loft Cinema, next to Fronimo's). Parking and entrance are located in the rear of the building. Turn in to the Walgreen's parking lot and go to the left around the building.
Online ticket sales end at 5:45pm on the day of the show.
Unscrewed Theater is a 501(c)(3) nonprofit organization dedicated to teaching, performing, and producing all forms of live improvisational theater in Tucson, AZ.
Box Office Policies
All online Pre-Sale/Will Call tickets will be available for pickup at the door with photo ID .
Pre-sale tickets must be picked up before the show begins.
All sales are final. Refunds will only be given if we are unable to perform a show as scheduled.
Seating is first come, first served. Doors open 30 minutes before curtain time, so arriving early is recommended for large groups that wish to sit together.