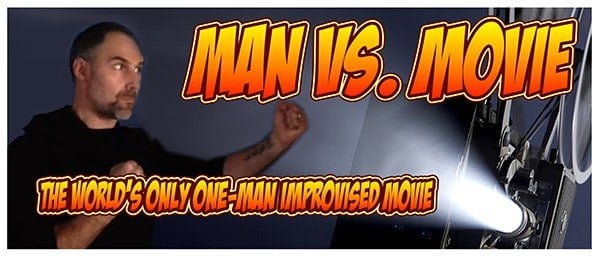 Man vs Movie (the world's ONLY one-man improvised movie) is a one man show with a cast of thousands. Veteran improviser Paul Vaillancourt takes a single suggestion of a line of poetry or a lyric from a song and, using that as his jumping off point, improvises an ENTIRE feature film right before your very eyes including everything you would see in a big budget Hollywood movie – camera angles, plot, characters, special effects and more!
Paul Vaillancourt is the co-founder (with Charna Halpern) of the iO West and has been teaching and performing improv for close to 30 years. In that time he has appeared all over the country including such notable venues as HBO's Comedy Arts Festival in Aspen, Chicago's iO (where he studied with the immortal Del Close), New York's UCB Theater, and Austin's Out of Bounds Festival to name a few.
Unscrewed Theater is located at 3244 E. Speedway Blvd. Tucson, AZ 85716 (across from The Loft Cinema, next to Fronimo's). Parking and entrance are located in the rear of the building. Turn in to the Walgreen's parking lot and go to the left around the building.
Online ticket sales end at 5:45pm on the day of the show.
Unscrewed Theater is a 501(c)(3) nonprofit organization dedicated to teaching, performing, and producing all forms of live improvisational theater in Tucson, AZ.
Box Office Policies
All online Pre-Sale/Will Call tickets will be available for pickup at the door with photo ID.
Pre-sale tickets must be picked up before the show begins.
All sales are final. Refunds will only be given if we are unable to perform a show as scheduled.
Seating is first come, first served. Doors open 30 minutes before curtain time, so arriving early is recommended for large groups that wish to sit together.