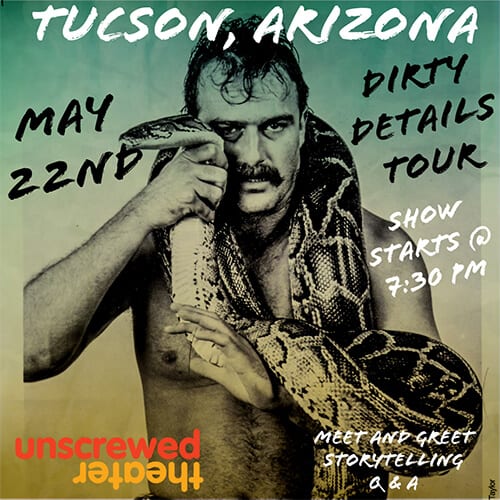 *NOTE: Contains rough language. Appropriate for ages 18 and older.*
WWE Hall of Famer, Jake "The Snake" Robert's comedy style show, appropriately named Dirty Details Tour is coming to Unscrewed Theater! Robert's unleashes his road stories and pranks played on his opponents.
Take a ride thru backstage and behind the scenes of your favorite matches. Some of the most iconic matches in WWE history with Macho Man, Andre the Giant, Hacksaw Jim Duggan and many more. Whether you are a wrestling fan or not, this one of a kind storyteller will have you wrapped in his coils begging for more!
Meet the man and one of the biggest legends of WWE. Walk away with hysterical stories and a grin… Trust us!
$20 General Admission or $40 VIP
VIP Ticket includes:
Seating in the first two rows.
Private meet & greet with Jake before the show. Doors open for VIP Ticket holders at 6pm.
One signed item.