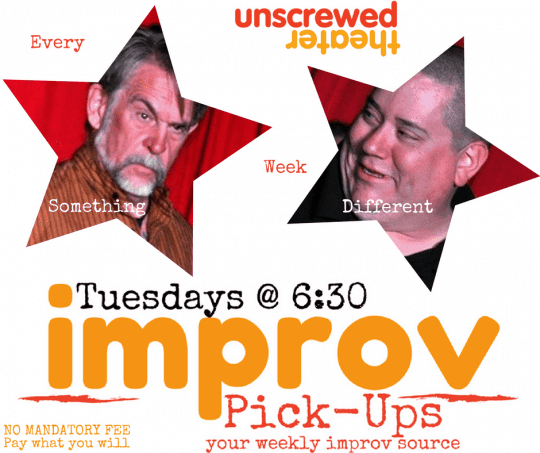 Calling ALL improvisers!
Open to interested improvisers, along with all past & present improv students.
1½ – 2 hours of non-stop scene work every week to sharpen your improv skills!
No mandatory fee, just pay what you will.
No need to pre-enroll, just show up!
Facilitated by Unscrewed Theater House Team members Alan, Jon, Gail, and Cy.
Unscrewed Theater is located at 3244 E. Speedway Blvd. Tucson, AZ 85716 (across from The Loft Cinema, next to Fronimo's). Parking and entrance are located in the rear of the building. Turn in to the Walgreen's parking lot and go to the left around the building.
Unscrewed Theater is a 501(c)(3) nonprofit organization dedicated to teaching, performing, and producing all forms of live improvisational theater in Tucson, AZ.