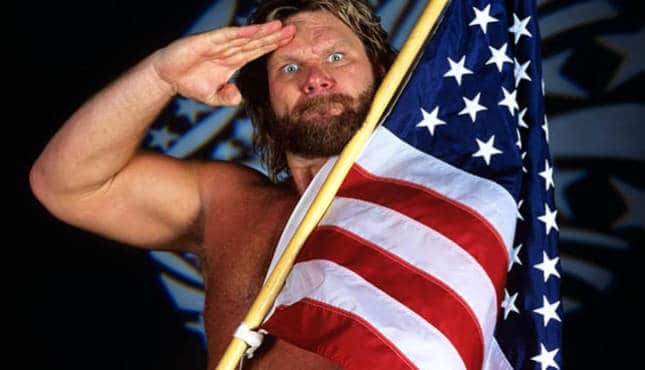 WWE Hall of Famer "Hacksaw" Jim Duggan is one of the most popular American professional wrestlers of all time. People everywhere know his trademark 2×4, his battle cry "HOOO!" and his "USA! USA!" chant. He has sold out stadiums for 30 years, headlined wrestling Pay-Per-Views and is now headed to Unscrewed Theater for an evening of storytelling & comedy.
Hacksaw's show is a wrestling fan's dream; an up-close, intimate experience with a sports entertainment heavyweight. It's a behind-the-scenes look at the crazy life of WWF superstar and the underbelly of professional wrestling as a whole. This show is a "must-see" for anyone who has ever watched wrestling, but you don't have to be a wrestling fan to dig it. Fans of comedy & pop culture will also enjoy Hacksaw's sense of humor & storytelling style.
During the show, there will be a Q&A where you can talk freely with Hacksaw, asking any "no holds barred" questions you have. Topics might include (but are not limited to) working with top names like Hulk Hogan, Andre The Giant, "Macho Man" Randy Savage, Jake "The Snake" Roberts, among many others, wrestlers playing practical jokes on each other in the locker room, obsessed fan stories and wrestling in strange places around the world.
There will also be time for autograph signings & photo opportunities at the end of each show.
$20 General Admission or $30 VIP
VIP Ticket includes:
Seating in the first two rows.
Private meet & greet with Hacksaw before the show.