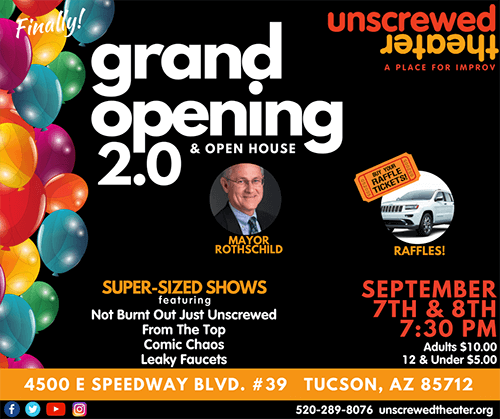 It's finally time! We're opening our BRAND NEW UNSCREWED THEATER with a super-sized family-friendly show!
Special Guest: Tucson Mayor Jonathan Rothschild. Featuring: Unscrewed Theater House Teams (Not Burnt Out Just Unscrewed, From The Top, Comic Chaos, and Leaky Faucets).
This is going to be a SPECTACULAR night with so many magical moments, including:
A ribbon-cutting ceremony with Mayor Rothschild and the Tucson Metro Chamber of Commerce
Raffle Ticket sales featuring prizes from beloved Tucson businesses (Raffle to be held on Saturday, need not be present to win)
Raffle Ticket sales for The Jim Click Millions For Tucson
and especially: a 90-minute SUPER-SIZED Family-Friendly improv show
Get your tickets NOW!
And if you want to make a weekend of it, our Uncensored Grand Opening 2.0 show will be Saturday, September 8!