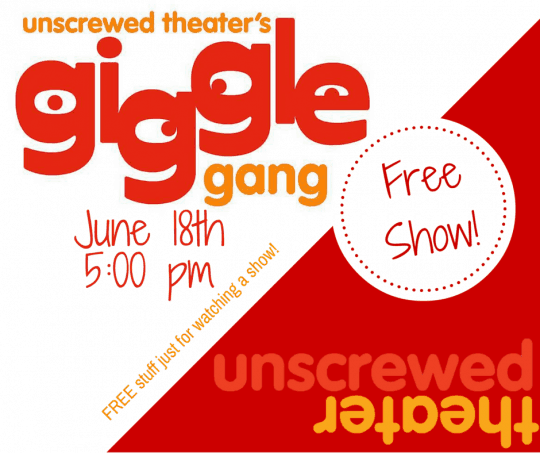 FREE IMPROV SHOW FOR OUR LOYAL GIGGLE GANG MEMBERS!
June 18 5pm-6pm. Join Not Burnt Out Just Unscrewed for a very special family-friendly improv show to say THANK YOU to our loyal Giggle Gang members. As always, we'll take your suggestions and turn them into comedy scenes and games that are seen once then never again. Plus we'll keep it clean – so the whole family can enjoy the night together!
Each member is allowed two free tickets. You MUST claim your tickets through the website to be eligible to attend. NO WALK-INS, please.
Unscrewed Theater is located at 3244 E. Speedway Blvd. Tucson, AZ 85716 (across from The Loft Cinema, next to Fronimo's). Parking and entrance are located in the rear of the building. Turn in to the Walgreen's parking lot and go to the left around the building.
Online ticket offer ends at 12pm on the day of the show OR when all tickets are claimed.
Unscrewed Theater is a 501(c)(3) nonprofit organization dedicated to teaching, performing, and producing all forms of live improvisational theater in Tucson, AZ.