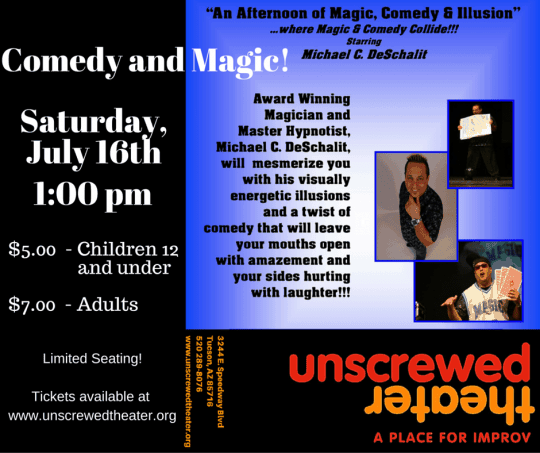 Unscrewed Theater will play host to a Comedy Magic Show starring Master Magician Michael DeSchalit. This show is a high energy show filled with eye-popping illusions and side-splitting comedy. The show will feature illusions you might see on a Vegas stage as well as comedy magic that is fun and appropriate for all ages.
Michael C. DeSchalit is a World Class Magician and Hypnotist who has over 20 years of professional performance experience. Michael has performed in venues such as The Four Seasons Luxury Resort in Vegas, The RMS Queen Mary, Hollywood's World Famous Magic Castle and most recently, exclusive engagements at the Circus-Circus Hotel and Casino, The Riviera Hotel and Casino, and The Orleans Hotel and Casino in Las Vegas Nevada, and the Treasure Chest Casino in New Orleans.
Ticket prices are $5.00 for Children 12 and under and $7.00 for Adults.
Only one performance! Tickets are limited and purchasing your tickets in advance is highly recommended!
Ticket sales end July 16 at Noon
For more information about the show, please contact Michael C. DeSchalit at (520)270-0183.
Unscrewed Theater is located at 3244 E. Speedway Blvd. Tucson, AZ 85716 (across from The Loft Cinema, next to Fronimo's). Parking and entrance are located in the rear of the building. Turn in to the Walgreen's parking lot and go to the left around the building.
Unscrewed Theater is a 501(c)(3) nonprofit organization dedicated to teaching, performing, and producing all forms of live improvisational theater in Tucson, AZ.