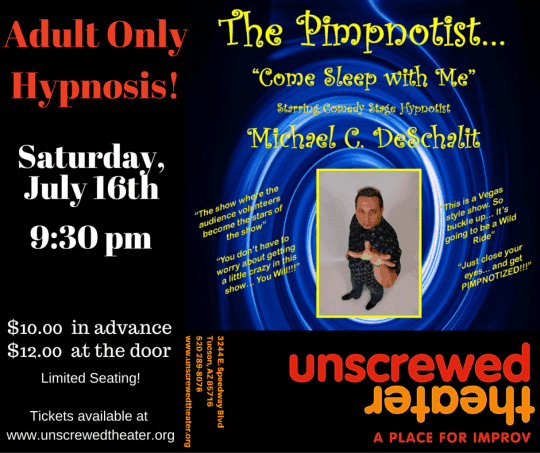 THE PIMPNOTIST: Sometimes the name really does say it all!
Far beyond the boundaries of ordinary hypnosis exists "pimp-nosis": a realm so freaky, so insane, so hilarious, words fail to adequately describe it. Let Michael DeSchalit, world-class hypnotist and veteran Vegas headliner, take you there during a high-energy show that must be SEEN to be believed! Watch volunteers forget their own names, speak "Martian" and dance like superstars … and that's before things get WILD. Be prepared for anything — and everything — during this masterful comedy hypnosis show!
Michael C. DeSchalit is a World Class Hypnotist who has over 20 years of professional performance experience. Michael has performed in venues such as The Four Seasons Luxury Resort in Vegas, The RMS Queen Mary, Hollywood's World Famous Magic Castle and most recently, exclusive engagements at the Circus-Circus Hotel and Casino, The Riviera Hotel and Casino, and The Orleans Hotel and Casino in Las Vegas Nevada, and the Treasure Chest Casino in New Orleans.
Online ticket prices are $10.00 in advance and $12.00 at the door.
ONLY ONE PERFORMANCE! Tickets are limited and purchasing your tickets in advance is HIGHLY recommended!
Ticket sales end July 16 at 8:30pm.
Ages 18 years and older Admitted. This is a Las Vegas-Style Show and will contain adult language & content.
For more information about the show, please contact Michael C. DeSchalit at (520) 270-0183.
Unscrewed Theater is located at 3244 E. Speedway Blvd. Tucson, AZ 85716 (across from The Loft Cinema, next to Fronimo's). Parking and entrance are located in the rear of the building. Turn in to the Walgreen's parking lot and go to the left around the building.
Unscrewed Theater is a 501(c)(3) nonprofit organization dedicated to teaching, performing, and producing all forms of live improvisational theater in Tucson, AZ.