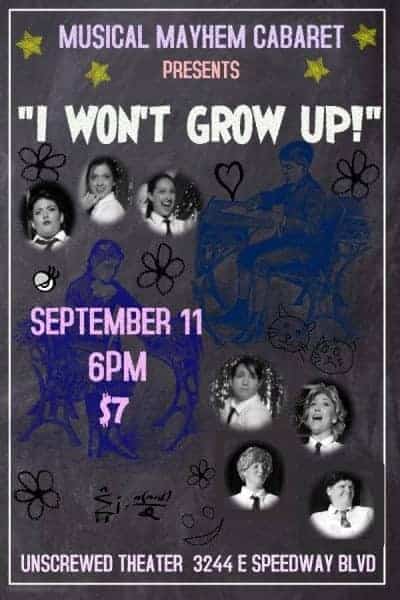 Musical Mayhem Cabaret Presents "I Won't Grow Up"
Please note: This show contains adult content. We consider it "PG-16."
Join Musical Mayhem Cabaret for our latest underrehearsed and overdramatic revue, "I Won't Grow Up!," a show about the trials and joys of being a kid.
6pm showtime
$7 at the door (cash or credit card)
Want to make sure we save you a seat? Email [email protected] to be added to our reservation list.
Tired of the same old thing?
Why pay a fortune to see a show that's been rehearsed into the ground? With Musical Mayhem Cabaret no two shows are the same! Our rotating cast, themes and venues guarantee you'll have a completely unique experience with every visit!
Musical Mayhem Cabaret began in January of 2011 in Phoenix, Arizona and has been taking the southwest by storm ever since.
Our goal is to bring a the flair of the world famous piano bars of New York City everywhere we go, infusing it into everything we do and mixing it with our own brand of under rehearsed and over dramatic comedy.
http://musicalmayhemcabaret.weebly.com/
https://www.facebook.com/musicalmayhemtucson/
Unscrewed Theater is located at 3244 E. Speedway Blvd. Tucson, AZ 85716 (across from The Loft Cinema, next to Fronimo's). Parking and entrance are located in the rear of the building. Turn in to the Walgreen's parking lot and go to the left around the building.
Unscrewed Theater is a 501(c)(3) nonprofit organization dedicated to teaching, performing, and producing all forms of live improvisational theater in Tucson, AZ.