Tired of going to the movies? In the mood for something different? Why not try a hilarious Improv Comedy show at Unscrewed Theater?
Unscrewed Theater has a new home! Join us every weekend for a variety of shows (both family-friendly and uncensored) from our four House Teams and more!
We're located at 4500 E Speedway Blvd #39 directly between Mama's Pizza & Sushi Ten, and just two doors down from dedicated gluten-free bakery. Get Directions.
Videos
Preparing to Be Unprepared: Our Interview with Arizona Illustrated
---
Watch videos from our recent improv comedy shows.
Oops, something went wrong.
More Videos on YouTube
Halloween Weekend!
Costumes, candy, and comedy! Come to the show in your costume for candy and prizes!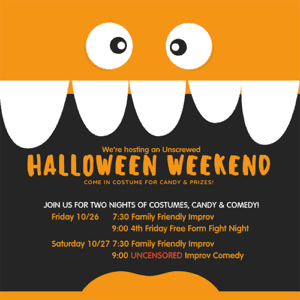 Free Tickets to Whose Live Anyway!
Come to the 7:30 show on October 19 or 26 or the 9:00 show on October 20 for a chance to win (must be present!). Come to all three for the best chance of winning!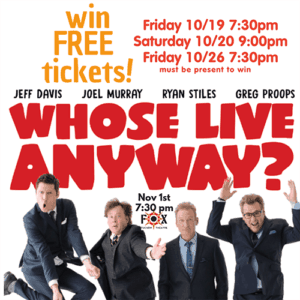 Upcoming Events